Patios & Walkways
Real Estate professionals, designers, architects and home owners all agree one of the easiest and lease expensive ways to add livable space to your home is by adding a patio you want to spend time in. Compared to the cost per square foot of adding a room to your home, which in the Omaha, Nebraska – Council Bluffs, Iowa is estimated to be between $60 to $250 dollars per square foot. Compare that to doing a really nice patio at between $25 to $75 dollars per square foot and it's easy to see why patio's are so popular.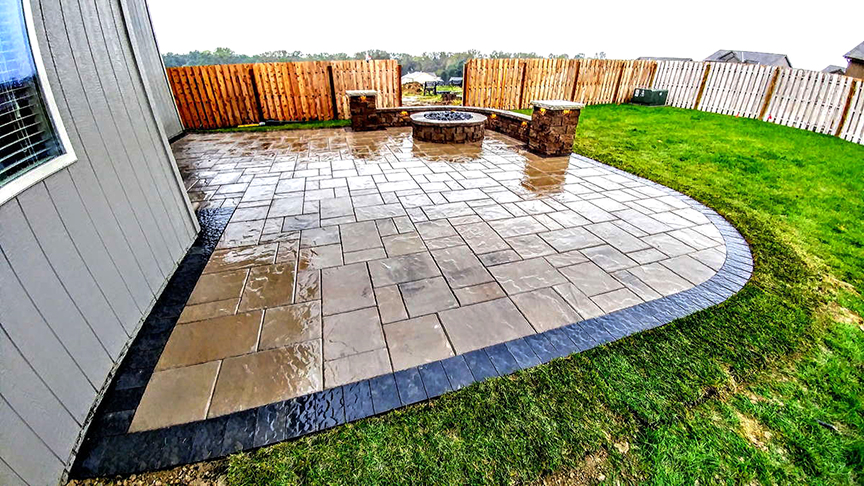 Creating a outdoor living space you and your family will want to spend time in is the goal. The uses and features of your patio or outdoor room are almost unlimited. We can help you plan, design and install your dream outdoor room. We believe that when you step out of your back door on to a patio or outdoor room you should be transported into your own personal back yard oasis.
Patios and walkways can be as simple as a poured concrete or as complexed as a multi level patio with an outdoor kitchen, water feature with hot tub, and fire pit all on different levels in natural stone.
Poured concrete doesn't have to be gray any more, although there's nothing wrong with a poured gray concrete patio. Today concrete can be colored,  etched, marbled, and stamped to create a focal point for your backyard patio. Still considered one of the primary building materials for patios, concrete is one of the most versatile choices. Concrete can be easily cast and formed into curves and geometric shapes that can make your patio very visually interesting. Done correctly concrete is as permanent and durable as natural stone and still reasonably inexpensive. For patio's larger than 10 ft x 10 ft, you will need to include control or expansion joints.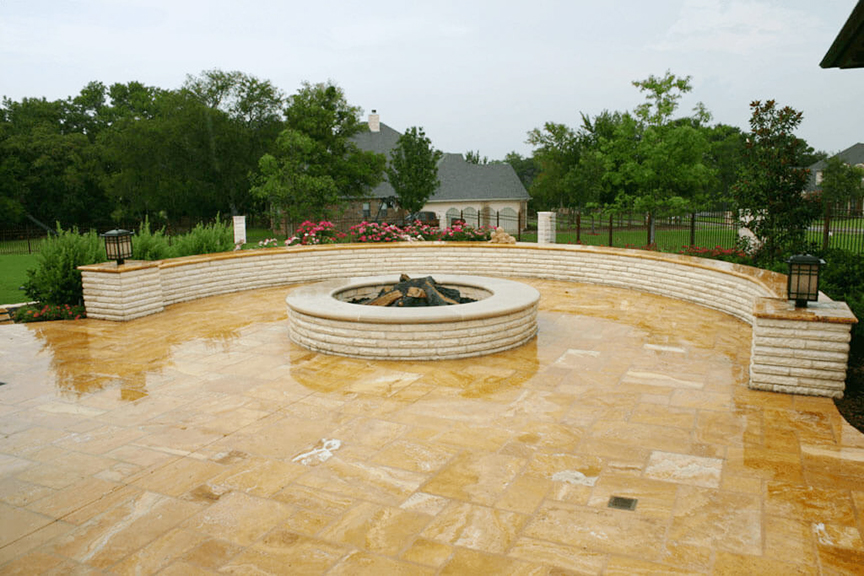 Paver Patios are about as customizable as you can imagine, they can vary in size, color, shape and materials used. Pavers are made of brick, tile and stone and come in a wide variety of textures. Many Paver Patio blocks are installed with an interlocking pattern that locks the structure together minimizing movement during freeze thaw cycles. Speaking of the freeze thaw cycles that we experience in the Omaha – Council Bluffs area, a paver patio won't crack.
Just like the installation of a retaining wall, installing a paver patio requires extensive preparation before  installation. For a Paver Patio to not move requires a proper foundation for the pavers to be installed on. Patio slope, and water drainage, have to be carefully planed considering the type of material used, the pattern involved and will the pavers be open or mortised together.
Paver patios are the foundation of the more popular outdoor features like fire pits, water features and of course full outdoor kitchens. The availability and huge selection of beautiful natural stones typically make the customizable color and texture options a fun and exciting part of the design process.
Patio Size is one design feature that is often overlooked. Ending up with a patio that is too small is a frustrating experience. To rationally determine how big your patio should be is a several step process.  Take the time to determine the right measurements for your patio and you'll end up with a well designed outdoor living space that you'll want to show off to your family and friends.
How will your patio be used? Do you want to be able to grill and eat outdoors? Do you have a small family or do you need a table that sits fifteen? Do you want to relax around a fire pit or fire place on cool fall evening roasting marshmallows? Do you want an area where you can lay in the warm sun and read a book in private? The point of these question is, it's hard to decide on the right size of a patio without a full understanding of how you want to use it and what will be happening there. Is there room to have specific use spaces? Like a grilling and cooking area next to a gathering area that also serves as a dinning area, where is the logical place for the fire pit and is there enough room for eight chairs? Smaller patios sometimes require detailed planning to ensure the needs are met. 
Consider how many people you would like the patio to accommodate, are you planning on smaller intimate gatherings, or are you hoping to host parties with lots of people?
Now that you know your intended use of the patio consider the size of your space available, how big is your yard, and where is the best place for each area? You might even consider doing some shopping or looking at patio furniture and tables to determine how much areas needed for each of those elements which in turn helps us decide how big each area should be.
Small Outdoor Dining areas can take up more room that you might think. For example most round outdoor tables with an umbrella hole in the middle are 48 inch round tables and typically seat 6 to 8 people depending on the size of the chairs. Your patio should be at least 10 to 11 feet wide to accommodate this size table. This width allow a little room for people to walk behind an occupied chair. Allowing 12 to 14 feet provides a spacious feel and won't seem crowed or tight if each chair is used. If you need a larger table for bigger gatherings you'll need to double or triple these measurements.
If you're wanting a full outdoor living room with a fire place and television you'll need a lot more space. Usually larger in size than the average patio these rooms are often set up to accommodate multiple uses. Many of the same questions apply, how many people do you plan to accommodate, what type of furniture do you plan to have? You're probably going to need a minimum of 16 to 18 feet for this kind of space. The shelter your outdoor living room/patio from harsh sunlight and rain many people decided they would like it to be covered by a pergola or some type of permanent roof.
Smaller patios and side yard patios, often turn into more of a bistro type feel, designed for small gatherings that are much more intimate. Because of their smaller size sometimes these designs are more challenging than larger outdoor living rooms. One major challenge is always making sure that the confined space can adequate accommodate a table and chairs. 
Sundeck patios are great places to spend the summer. If you want to include a sundeck patio area in your design, allow enough space for lounge chairs usually two or four 2′ x 6′ each, with cocktail tables in between and about 3 to 4 feet walk space in front of each chair.
No matter what type of patio you are dreaming one thing is for sure, a well thought out patio will add years of outdoor fun and enjoyment to your home and increase the value of your property.
We are honored to be a trusted name in patio design and installation in the Omaha – Council Bluffs area and would the opportunity to provide you with a free no obligation estimate to make your patio dreams come true. We design, install and repair patio's in a fifty mile radius of Omaha so if you are in Minden, Iowa or Springfield, Nebraska we would love to hear from you.