Fire Pits, Outdoor Fireplaces & Fire Tables
Fire Pits, Outdoor Fireplaces, Fire Tables, nothing says warm and inviting more than a blazing fire on your patio. Since the dawn of time man has congregated around the fire.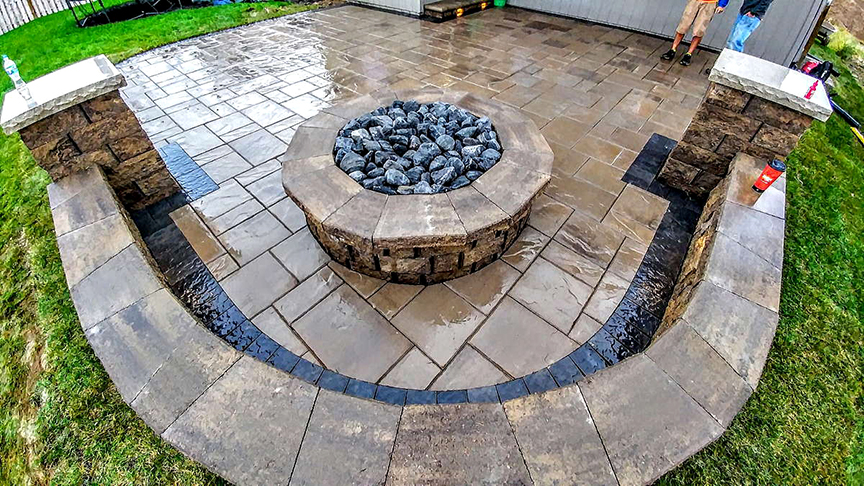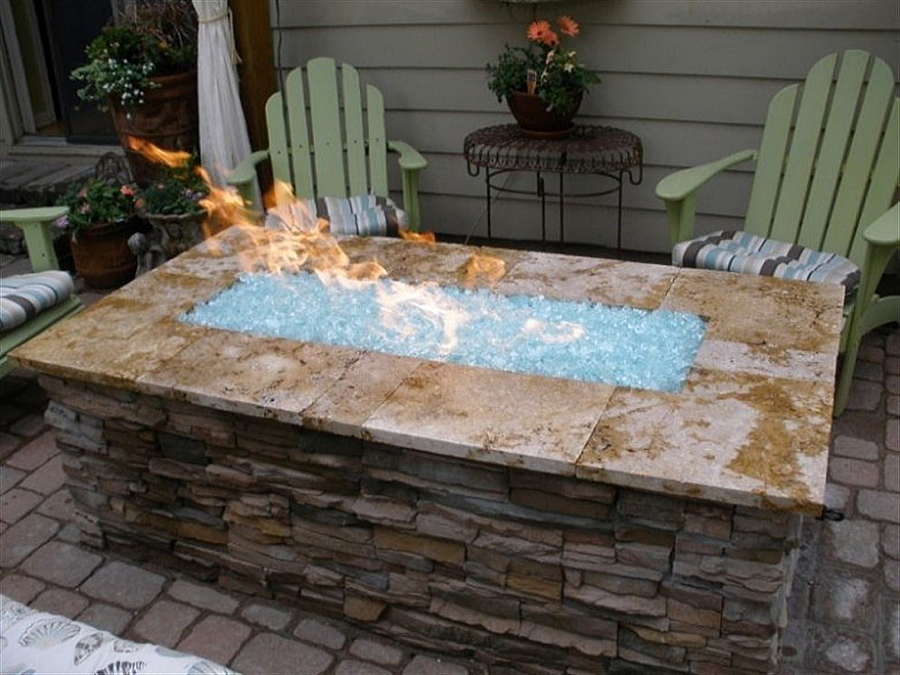 For many of us there is something very hypnotic and relaxing about sitting in front of an open flame. Today's gas and propane fire pits make it as easy as pushing a button and all you have to do is curl up in that favorite chair and relax. 
Fire Pits, and Fire Tables have become very popular in the backyard landscape. We can help you design the perfect fire feature addition to your patio or backyard and our trained installers can turn your dream into a reality. 
Since you're thinking of adding a fire feature to your patio there are several things like landscape design placement and wind blockage they can greatly affect the enjoyment you and your family get from your new fire pit. Your new Fire pit or fireplace can greatly extend the usable life of your patio, you might even find yourself enjoying a warm fire late into the fall or early in the spring.
Placement within your patio design becomes a concern, remember burning flames are very unforgiving and safety always must come first. You have to have at least 3 feet and preferably more space around the fire feature to ensure furniture and people don't get hurt. 
Fuels
If you're looking to create a warm inviting atmosphere a gas or propane fire pit or fireplace maybe the perfect answer, they're low maintenance, highly efficient and easy to start. If you're limited in the amount of space you can dedicate, gas and propane are your best options because they both burn clean. For Fire Pits, Fire Tables and Fireplaces, gas is the clean option, it is also amazingly convenient to start and maintain. 
If you're looking for the small of burning wood a wood burning Fire Pit or Fireplace is probably what you'll want. And we agree it's hard to beat the beauty smell and ambience of a crackling fire. The downside is fires are dirty, they create a good amount of ash and smoke. If burns ash is allowed to remain in the fire pit and it rains, it creates a murky black sludge that seeps through drainage holes and can be very unsightly. With both a fire pit and fireplace there is more maintenance and cleanup required.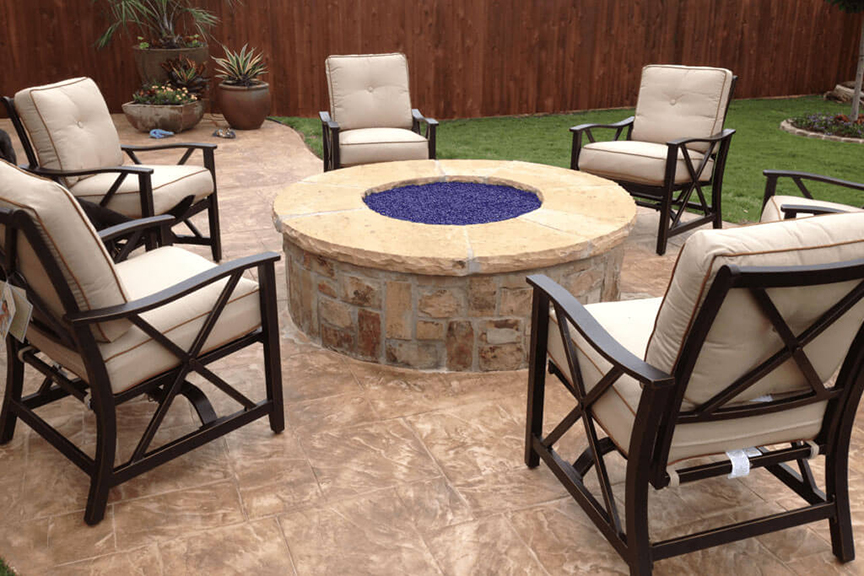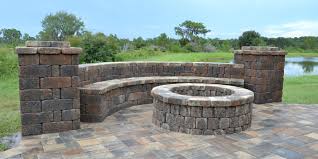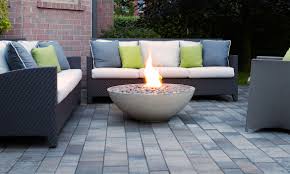 Seating
Seating around a fire pit or fireplace is essential when creating a space for your family and friends to enjoy. One popular option is what we call permanent or fixed seating which is often a small wall capped off with flagstone or some other type of permanent fixed bench type seating. Permanent seating wears well and is in pervious to the weather.
Flexible seating which includes chairs, Ottomans and sofas, allow for a more casual atmosphere. Snuggling up to the fire in cooler months and being able to move farther away as summer approaches are flexible options you may want to enjoy. 
Prevailing Winds / Wind Blockage 
Which direction does your backyard face north, south, east, or west? If you're sitting in your backyard in the spring is the wind direction different than in the fall? Fire Pit and Fireplace placement on your patio can make the difference between one that gets used all the time and one that is rarely enjoyed. So we have to ask the question: do we need to create some kind of a wind block for certain times of the year to make your fire pit or fireplace as enjoyable as possible? Do we need to include a hardscape free standing wall on the northwest side to block a cold north wind so you can enjoy a fire in late November or early March?  Hopefully you'll spend some time thinking about those "extended" times you might want to enjoy a fire and what needs to be included to help insure your year round enjoyment of a fire pit or fireplace. 
Fire Bowls
The difference between a fire bowl and a fire pit are just enough to require a couple of points. A well constructed fire pit is usually built into the patio or ground in the form of a ring, constructed of a traditional hardscape material. Fire Bowls are above ground and while usually fixed to the patio, they produce a fire that is higher off the ground than most fire pits. The fire pit will produce more radiant heat, because the heat source is lower, will keep you warmer on cooler evenings than the same sized fire bowl. If you're all about style, Fire Bowls are hard to beat provided you're willing to sacrifice the warmth. 
Fire Columns
A Fire Column is a unique fire feature that combines the high style of a fire bowl with the warmth of fire in a smaller contained space. A column is exactly what you think, it's a column made of either a man made material or natural stone with space at the top for a fire. Because of their compact design most fire columns don't support wood as a fuel, propane, natural gas or gels fuels are used. The main attraction to a Fire Column is the smaller/slim design that can allow you to introduce a fire feature in a smaller more confined space. 
Fire Tables
Fire Tables have become hugely popular, they combine the convenience of a table with the warmth of a nearby fire. Created for both function and fashion, fire tables are a great addition if space is limited or if you want to extend the time you can comfortably enjoy eating outside.  Fire Tables are almost always propane or natural gas fueled because of the need for a clean burning flame. Fire tables range from small end table designs up to larger tables able to sit ten or more people. Strategically placed small end or coffee table designs can produce an amazingly warm and inviting atmosphere to greatly extend the usability of your patio.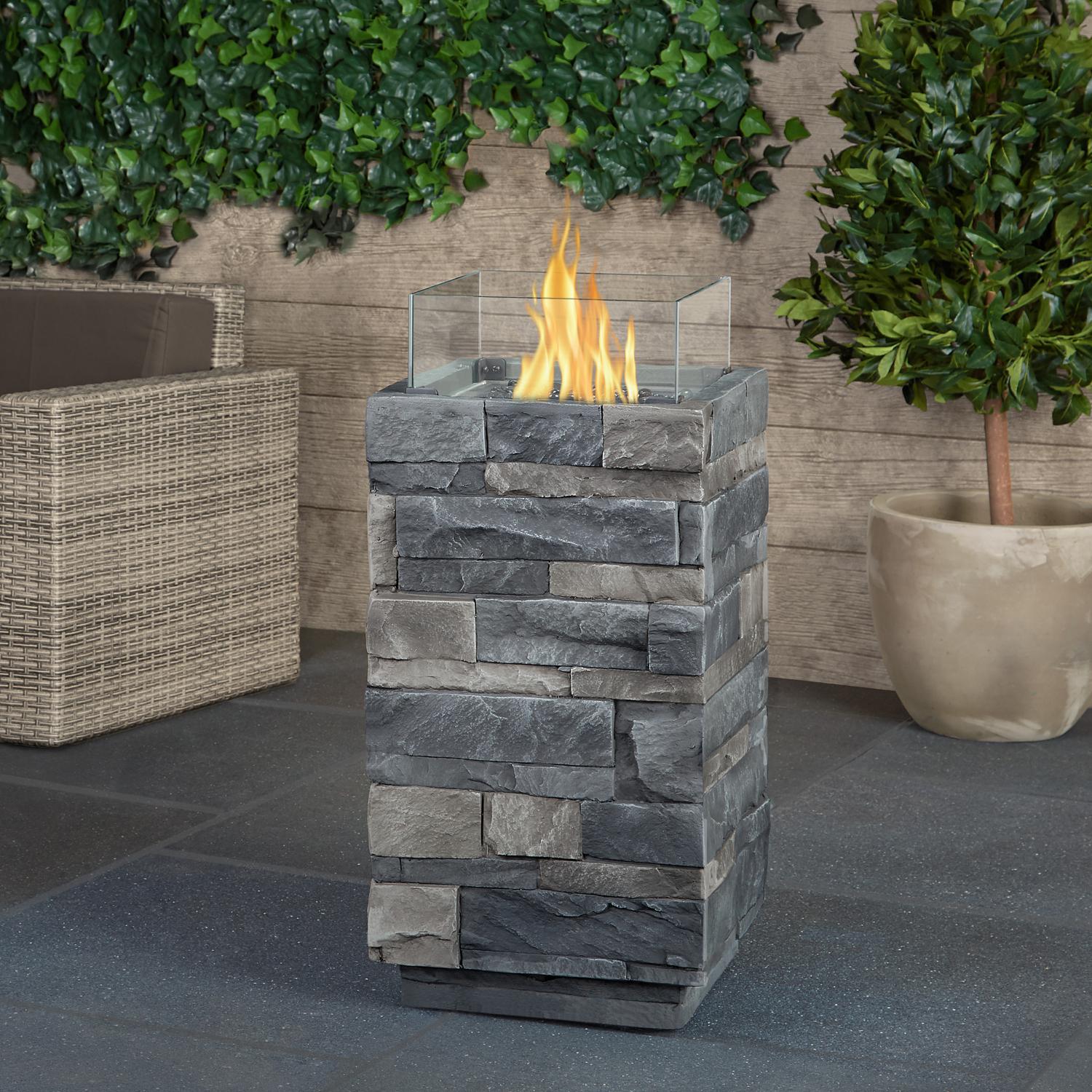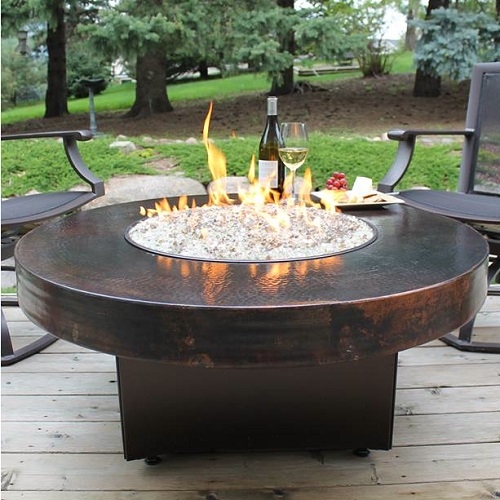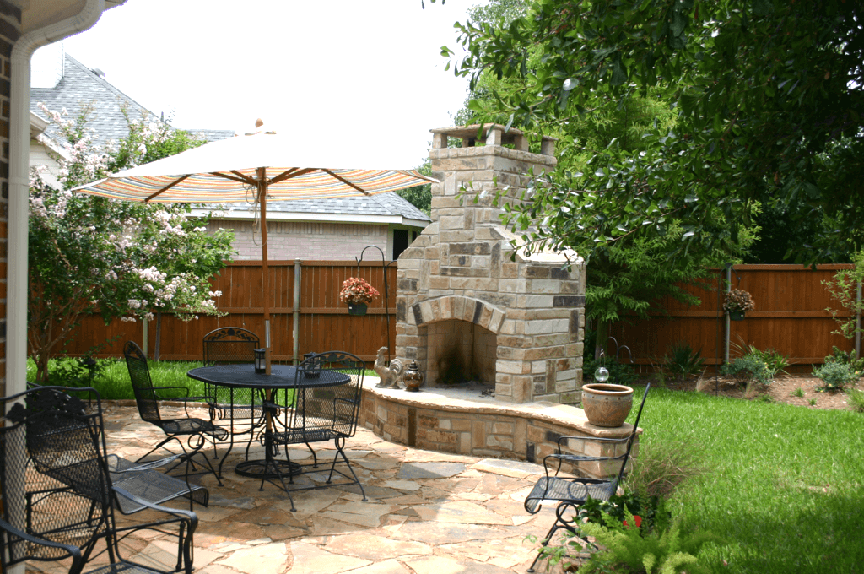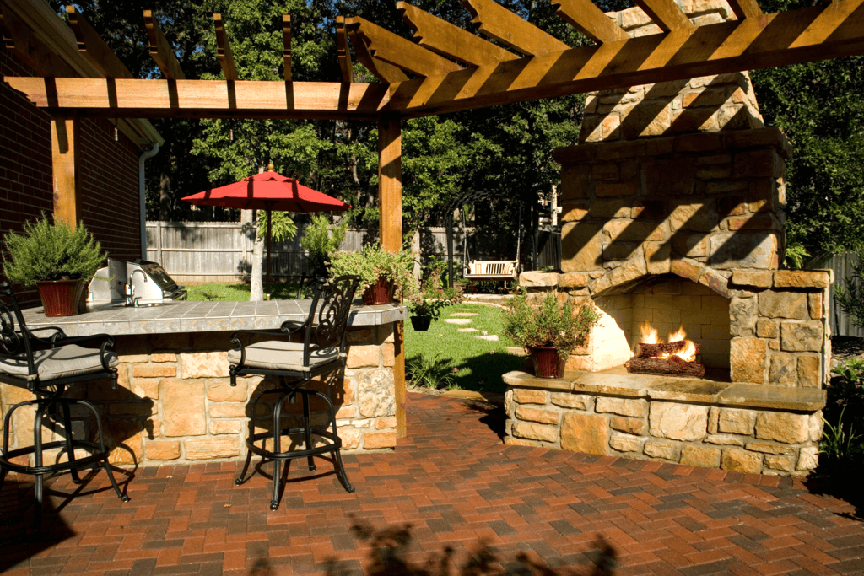 Outdoor Fireplace
An outdoor fireplace is the perfect high heat output source to warm an outdoor living room area. If you're a lover of a natural wood fire an outdoor fireplace is the perfect option. Really no different than an indoor fireplace, an outdoor fireplace requires the same maintenance as any other wood burning fireplace. Wood burning fireplaces can incorporate some type of hearth furnace which is basically an air handler that pushes warm air out the front to maximize the heat production. Propane or natural gas fuels will also put a significant number of BTU's (British thermal units) and require a lot less maintenance. 
Multiple design options allow us to customize your outdoor fire feature to meet your families exact needs and maintain the safety standards we all know have to be respected. The ideal situation is to incorporate your new fire feature as you are designing a new patio. At JFE Lawn and Landscape we know that "ideal" isn't always an option. We specialize in taking your current patio design and seamlessly incorporating new areas and fire features to expand your outdoor living space. 
All of our Work is Guaranteed!
Our Guarantee
Joseph Faust Enterprises guarantees that every project we complete will always be done with exceptional quality. Whether it be a small landscaping maintenance or a large commercial hardscape project. Every project that JFE takes care of will always be done right. Quality and consistency are two of the things that sets Joseph Faust Enterprises apart from other companies. We treat your property as if it were our own. We guarantee all hardscape projects with a five year warranty. We will not settle for anything less that  quality and beauty when it comes to our valued customers properties and projects.
Lawn Maintenance Guarantee
Joseph Faust Enterprises guarantees that every lawn that is maintained will always be maintained with quality and precision. Whether it is a large commercial property or a small residential property every property that we service, we take pride in. We will always guarantee that the job will be done right and to meet our customers expectations and needs.
Get a Free Estimate on your New Retaining Wall