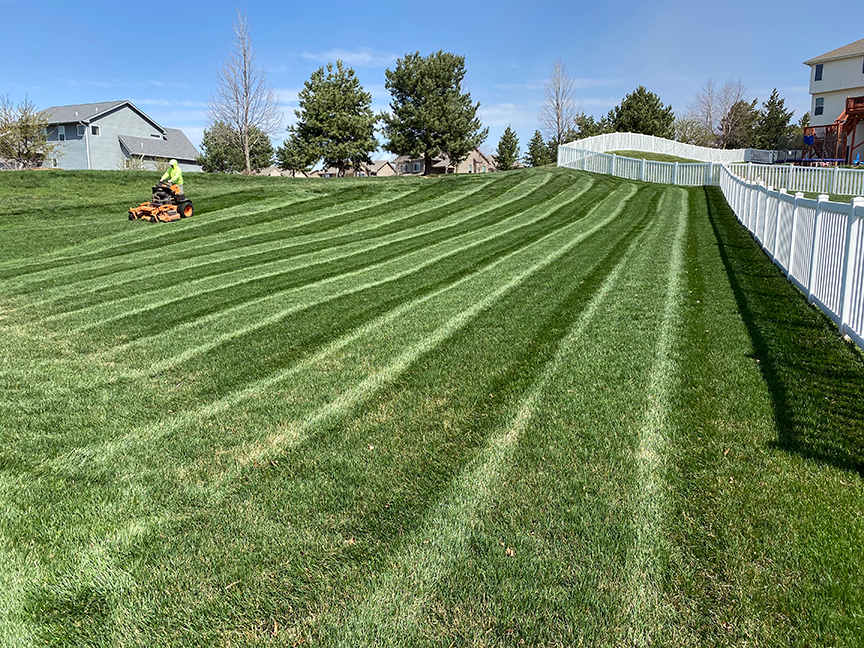 Lawn Maintenance and Mowing
We are lawn maintenance and mowing professionals that are trained, licensed and insured in both Nebraska and Iowa. Customers satisfaction is our number one goal. Call and get a free no obligation quote.
We all love the thought of a well cut, trimmed, thick lush green lawn to enjoy. Unfortunately, in Omaha, and Council Bluffs, these lawns will only exist in your imagination unless you get on the maintenance early in the spring and keep it up well into the fall.
Having a lawn that is the envy of your neighborhood is easy when you put its care in the hands of the pros at JFE Lawn and Landscape. We specialize in total lawn maintenance care and mowing.
Our early spring to late fall program guarantees your lawn gets everything it needs to be healthy, and the envy of your neighbors.
We start in early spring with a Spring Cleanup and lawn evaluation that reviews the overall health of your lawn. During the Spring Cleanup and lawn evaluation we'll do the obvious cleanup work like removing leftover leaves ,sticks and branches from your yard. More importantly we're identifying and assessing the types of turf you have and its overall health, looking for areas of stress, weed overgrowth, signs of insect infestation, and disease
This allows us an opportunity to put together a customized plan for your lawn maintenance. Designing a multi-tiered approach to creating and maintaining an optimal environment for your lawn. So every time you step out into your lawn you not only see the healthy green grass you feel the lush carpet of turf cradling your every move.
Our Spring Cleanup can also include Bed Maintenance for your planting areas, we'll clean them up and install new rock or mulch when needed. If your gutters need attention we can also  clean your gutters.
Our hardscape experts can outline your planting beds with natural stone edging, block edging or a poured concrete curbing. All of these edging types minimize trimming and make lawn mowing easier. 
Feeding your lawn is very important, since we know that not all lawns are created equal, we offer a four, six and seven stage lawn feeding programs. Once we evaluate your lawns current health condition we will recommend a fertilization program that makes since. You'll also have the option of taking care of your lawn feeding on your own or have another company that just does lawn feeding take care of it.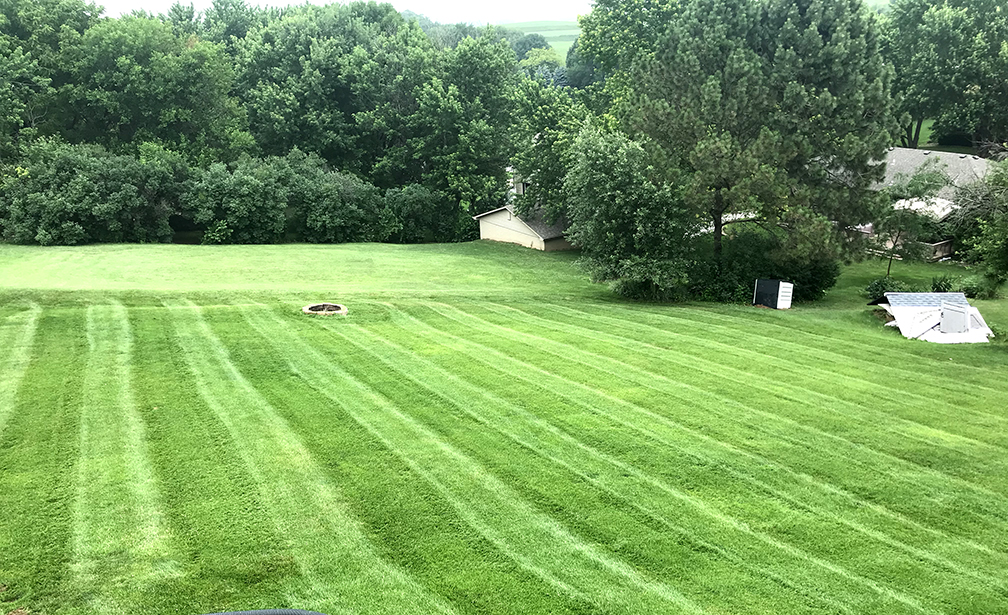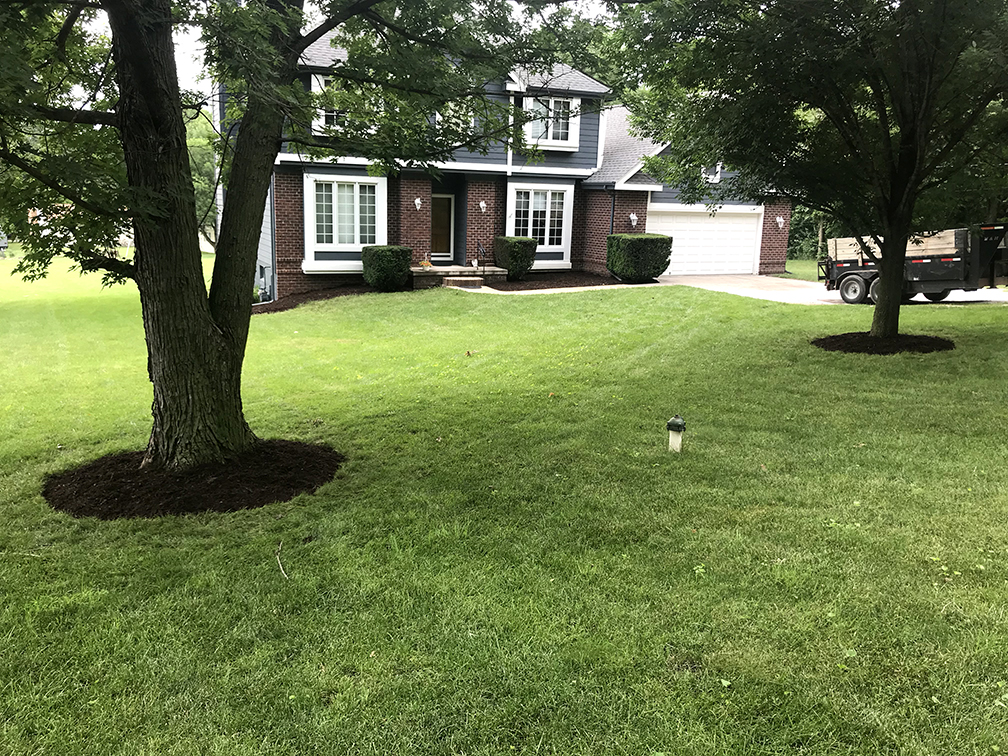 Mowing Services
Once you hire or add your own sweet to make your lawn lush and green, via a solid fertilizer application plan the weekly work of mowing moves to the top of the list. JFE Lawn and Landscape offers very competitive rates with our weekly mowing program. Your time is valuable and our professional mowing teams will give your lawn the manicured look you want without the hours of back breaking work of pushing or riding a mower, fighting weeds and trimming around all your planing beds, trees, patio, walkways and driveways. Our weekly lawn mowing program insures that we are never cutting more than one third of the blade at a time, the recommended cutting high to insure strong turf grass root structure. We also leave the clippings in the yard which replaces minerals and nutrients back into the soil.
We use professional Scag mowing equipment, Scag equipment is recognized world wide as a leader in mowing technology. Scag mowers are famous for their reliability and even blade cut that produces that manicured lawn look.
Trimming and Cleaning Up
We trim all of those hard to reach places a mower might miss as well as around walkways, driveways and planting beds that need it. Our mowing teams always clean up after themselves blowing off patios, walkways and driveways.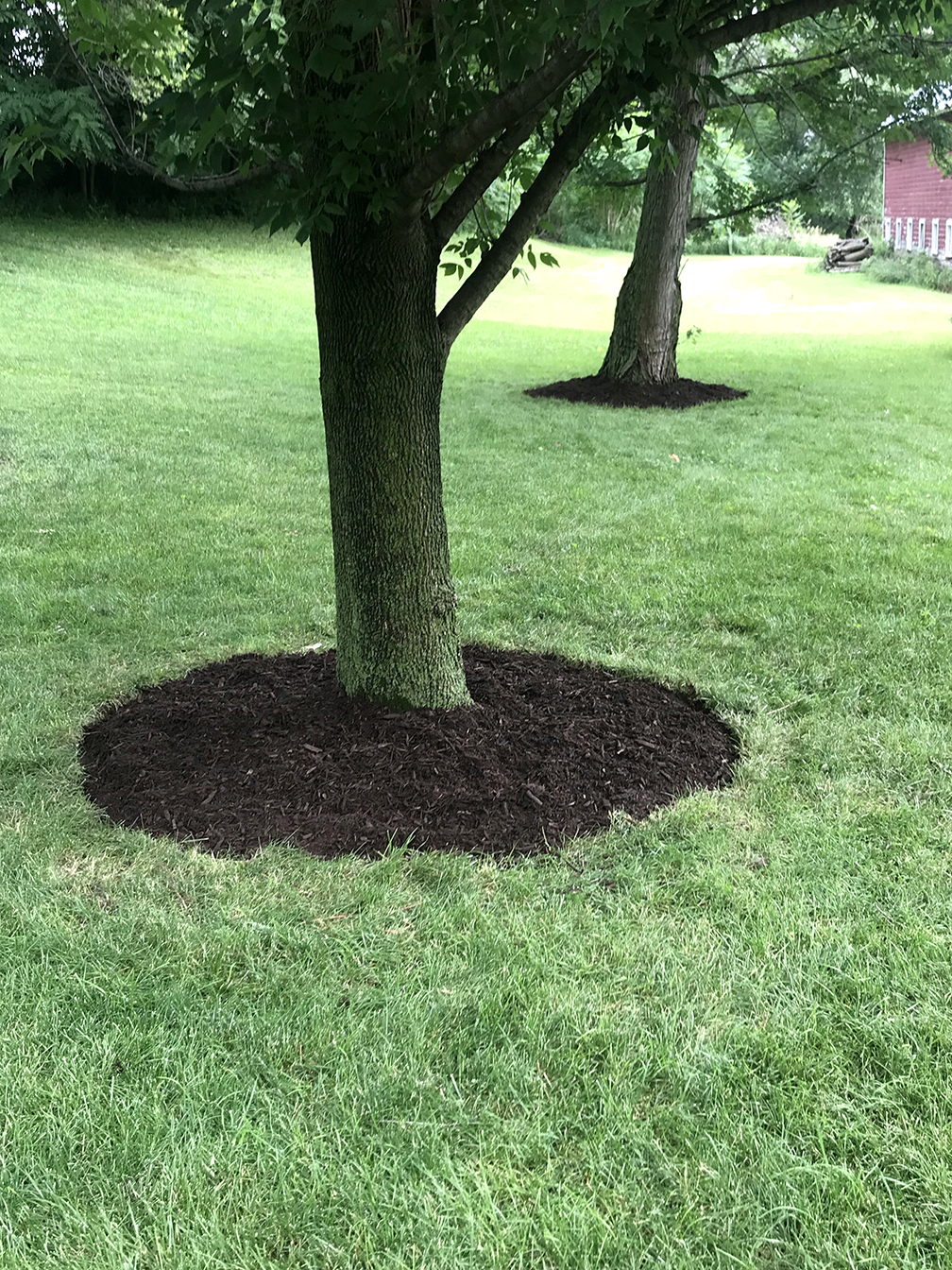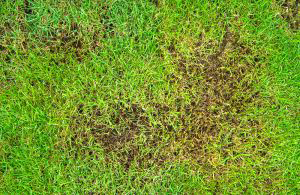 Aeration
Aeration is an essential tool in building a thick healthy lawn. Aeration is the process of punching thousands of little holes in your lawn to allow air, fertilizers, and other nutrients back into the soil, so they can be absorbed by the grass roots. Aeration also promotes the grass to sink deep roots which build a healthier plant. Over time your yards soil compacts which cuts off air, water and nutrient circulation in the soil. The ground itself is literally squishing the grass roots making it work very hard to stay healthy. Aeration loosens the soil allowing all the life giving nutrients to mix with water and a little air to give your lawn what it needs. Aeration is ideally done early in the spring or later in the fall but depending on the type and density of your soil can be done in the middle of the growing season too.
Over Seeding
It's not uncommon for even a healthy lawn to have areas that are a little sparse, the area might be prone to heavy foot traffic or entirely in the shade. Lawn seeding or overseeding is common and is the best way to help insure your lawn stays thick and lush. In the Omaha, Council Bluffs area most lawns are overseeded once a year. If you have an area that is bare or a bald spot we'll prepare the ground to hold the seed, match the seed with the soil and amount of sunlight the area receives and ask you to help by watering it daily for a couple of weeks so the new grass can fill in.
We do commercial and residential lawn care and maintenance throughout the Omaha, Council Bluffs area. We are trained, licensed and insured so you never have to worry if your lawn is receiving everything it needs to grow and be the envy of your neighborhood. Give us a call and we'll come out and give you a free lawn evaluation and estimate.
Our Guarantee
Joseph Faust Enterprises guarantees that every project we complete will always be done with exceptional quality. Whether it be a small landscaping maintenance or a large commercial hardscape project. Every project that JFE takes care of will always be done right. Quality and consistency are two of the things that sets Joseph Faust Enterprises apart from other companies. We treat your property as if it were our own. We guarantee all hardscape projects with a five year warranty. We will not settle for anything less that  quality and beauty when it comes to our valued customers properties and projects.
Lawn Maintenance Guarantee
Joseph Faust Enterprises guarantees that every lawn that is maintained will always be maintained with quality and precision. Whether it is a large commercial property or a small residential property every property that we service, we take pride in. We will always guarantee that the job will be done right and to meet our customers expectations and needs.